In an ever-shifting technological and social landscape, getting started with influencer marketing can feel like an intimidating venture for brands that are new to the space – especially given the always abundant, yet sometimes conflicting information about what works and what doesn't. Here at Sway Group, we've heard every assumption there is to be made. Here are the top five misperceptions we'd like to see disappear (this was originally published on Forbes), as well as actionable suggestions to help your brand go about these situations in more effective ways.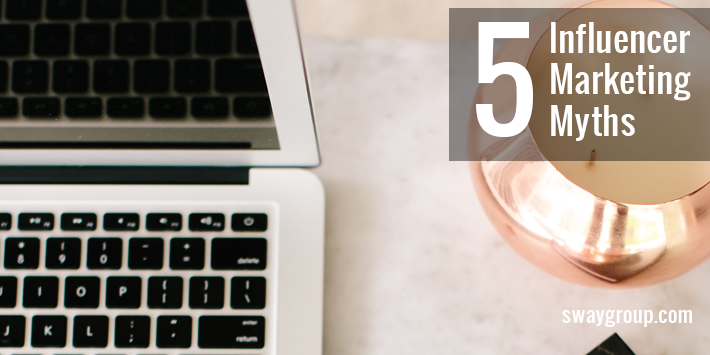 5 Influencer Marketing Myths We'd Like to See Go Away
1. Influencer marketing won't work for my brand.
Brands often believe their product isn't right for influencer marketing if it doesn't come across as well-suited for glam photos and traditional lifestyle copy. It may seem that influencer marketing might not be the best vehicle for, say, a hair loss product or a pre-tax savings account. However, the truth is, a real voice that's used to communicate a brand's benefits can be effective even for topics marketers are unsure have a fit in influencer marketing.
Look for influencers who can craft an honest story about your brand — regardless of how strange, awkward or boring it might be — and you will likely find that consumers are both engaged and pleased to join the conversation.
2. Celebrity influencers may cost a lot, but they're worth it.
It's true that certain online influencers are very expensive to work with — Beyonce gets $1 million for a sponsored post — but you don't have to have the follower count of a Kardashian to have influence. Research by Markerly shows that once an influencer reaches a critical mass of followers, audience engagement actually begins to decrease.
What's the best opportunity for maximum impact? It's the micro-influencer, who generally has a following in the 10,000-100,000 range. Their audiences are more likely to share mutual interests with the influencer — and each other — than an audience of millions. Don't get fooled by the term "micro." These influencers can drive higher engagement and are more likely to turn into sales and provide authenticity than celebrity influencers, all while reaching a more specific audience. And they're much more affordable than the big-name stars.
One downside is that they may be harder to find. Micro influencers don't always work on their platforms on a full-time basis, and they often rely on a middle-person. When searching for micro-influencers, if you are specific about both your niche and goals (engagement, awareness, sales, etc.) you have a better chance of finding a good match for your brand.
3. It's too hard to measure ROI.
Not only is it patently untrue that influencer marketing can't be measured, measurement is actually a key component of every successful campaign. Metrics inform not only campaign return on investment (ROI), they inform future projects as well.
At Sway Group, we analyze metrics of all types, including engagements, content views and clicks, comments, likes, retweets, repins and shares. We have influencers include a unique tracking pixel on their blog posts which allows us to provide a true number of impressions. We generate customized links that allow for deep-dive analytics to help clients understand the who, what, where and when details of the traffic within their campaign.
For some campaigns, developing a conversation about the product or service is the main goal. Pay attention to the comments, as they offer great insight into how your audience is engaging with your content. When tagged on sponsored content, responding gives brands the invaluable opportunity to be part of the discussion.
4. Everything can be automated with influencer platforms.
Influencer platforms offer a range of services, but at the core are dashboard solutions that connect brands to influencer networks via a "self-serve" platform. While there are benefits to the automation of a campaign from start to finish through a platform, there are some significant limitations as well.
Platforms don't allow for specific geo-targeting or tailored recruitment based on campaign goals, they aren't suited for powerful outreach activities like Twitter parties or live events, and they provide no Q&A services whatsoever. A platform may have the tools for selecting and contacting influencers, but a great influencer campaign does not end there.
Dialogue with an influencer allows the brand to set forth nuanced post instructions, execute payment negotiations and contract updates and provide true assistance should an issue arise. While some brands are experimenting with automation, many also tap specialized influencer marketing agencies for the strategic counsel they can provide. In-house marketers, as well as public relations and advertising agencies, often need help during busy times and overall support with campaign management.
From our perspective, influencer marketing is evolving into an efficient blend of people and technology. Technology is needed, but a skilled human touch cannot be replaced.
5. A good storyteller can fix a bad story.
Big influencers are only as influential as the product or service they are sharing. Even popular influencers cannot be expected to fix an unpopular or flawed idea or product. Take the Fyre Festival, a good example of a bad idea that even the most high-profile influencers couldn't save (and, instead, were called out as part of the problem). The would-be luxury music festival that was to take place in 2017 fell apart so spectacularly, organizers became the subject of several lawsuits. The high-profile social media stars who, in good faith, helped promote the event couldn't reverse the poor execution of a highly flawed plan.
Influencers should be brought in only after a product or service is fully vetted and ready for it to be public. It should never be their job to create buzz for something that may not come to fruition.
It's important for brands to start with a comprehensive content strategy before focusing on finding the right influencers. At the end of the day, influencers should be all in on supporting the idea, product or service they're promoting — but it's absolutely critical that brands can deliver on the promise and expectations they ask influencers to create in the first place.
Want to learn more about how Sway Group can help your next influencer campaign be a raging success? Connect with us today for a custom proposal.