So you're a brand who decided to partner with a big-name social media influencer who's now embroiled in a giant scandal and Twitter is blowing up with outrage expressed in admittedly hilarious memes — what to do? Is there a hashtag for this kind of complicated PR nightmare? (#TooStressedToBeBlessed?)
Ah, the perils of modern marketing.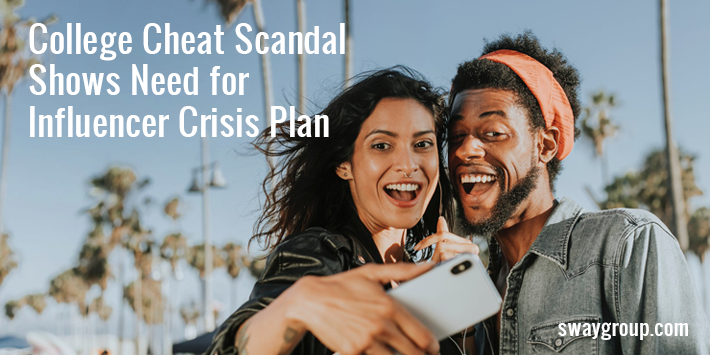 Influencer Olivia Jade Giannulli, 19, is currently under scrutiny as the legitimacy of her college acceptance has been called into question. Her parents are actress Lori Loughlin and the designer Mossimo Giannulli, two of the dozens of people accused of cheating the college admissions process in order to get their children into Yale, USC and other big-name schools.
Ms. Giannulli has close to two million YouTube subscribers and over a million Instagram followers. She's posted sponsored content for several brands including Sephora, Amazon, and TRESemmé, and in September, she posted two paid advertisements on Instagram that highlighted her identity as a student.
A glance at Sephora's product page for the "Olivia Jade x Sephora Collection Bronze & Illuminate Palette" reveals nearly 200 one-star reviews with users leaving scathing comments and requests for Sephora to cut ties with the influencer.
At the very least, Ms. Giannulli probably won't be sharing sponsored posts for college-themed products any time soon, but her situation raises an interesting question: what should brands do in the case of an influencer PR crisis?
Develop an influencer crisis plan for your brand
Be Transparent and Create Distance 
Brands don't want to be caught up in whatever scandal is impacting the influencer they've partnered with, but shying away from the facts won't help the situation. Be clear about the nature of your relationship, and the steps you're currently taking.
In a statement to The Hollywood Reporter on Wednesday, HP Inc. said the company had worked with both Lori Loughlin and Olivia Jade in 2017 "for a one time product campaign," and added that "HP has removed the content from its properties." In this case, their swift acknowledgment and action removes them from being part of a story they had nothing to do with.
Make a Public Statement if Necessary 
When model Amena Khan was featured in a L'Oreal Paris haircare ad campaign, she made headlines for wearing a hijab in the photo — but came under fire later over alleged anti-Israel tweets she posted in 2014.
L'Oreal helped raise awareness for Khan's apology and her choice to step down from the campaign with the following statement:
We have recently been made aware of a series of tweets posted in 2014 by Amena Kahn, who was featured in a UK advertising campaign. We appreciate that Amena has since apologized for the content of these tweets and the offence they have caused. L'Oréal Paris is committed to tolerance and respect towards all people. We agree with her decision to step down from the campaign.
Not every influencer scandal requires a brand statement, but for those situations that do, it's critical to move quickly when it comes to addressing the issue and/or apologizing. Companies who delay acknowledging the problem will only make things worse, especially in today's environment of lightning-fast social media.
Align with Authenticity 
As the PR dust settles (the nature of our call-out culture virtually ensures the spotlight won't last forever) and you look ahead to future influencer campaigns, consider the so-called microinfluencer.
Microinfluencers not only don't attract the same potentially negative attention as the big names, they often outperform in terms of engagement because of their passion, knowledge, and accessibility. Microinfluencers provide the genuine recommendations that consumers are seeking; their endorsements don't feel like advertisements, they feel like valuable opinions from a trusted friend.
Of course, that doesn't mean that a microinfluencer is impervious to scandal — but it's much less likely that their misstep is going to make front page news.
Influencer marketing is all about levering the direct and personal connections influencers have built with their audiences, and if something happens to disrupt that relationship, it's best to be as forthcoming as possible. The more honest and transparent everyone can be in the process, the better the outcome, and the more likely audiences are to forgive and move on.