Marketing online to parents has gone through big changes over the years, from the OG "mommy blog" to today's diverse creators. The so-called mommy blog has evolved into a multibillion-dollar industry, and no wonder: depending on which research you look at, U.S. moms control anywhere between 64% and 85% of household purchases. While today's parenting audiences are still looking for the topics that will always resonate for anyone raising young children (first foods, potty training, and sleepless nights, for instance), many parenting influencers often now include a niche focus.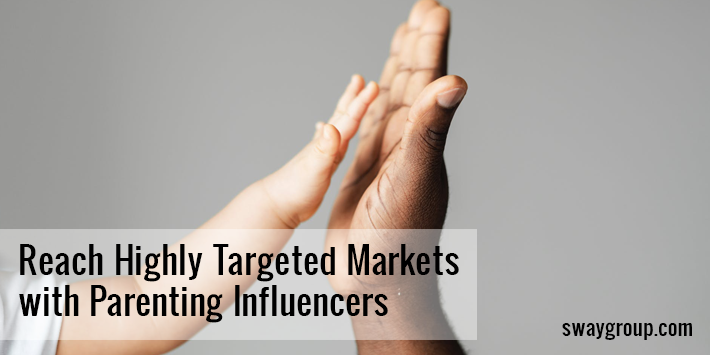 Here's how to reach five highly targeted markets with parenting influencers
For brands looking to reach these highly targeted, highly engaged audiences, today's parenting influencers offer the ideal partnership opportunity. Not only can they speak to the specialized topics they know their followers are interested in, but their shared experiences also shine through with the authenticity that consumers respond to.
1. Military Families
The military market (which includes active duty military, reservists, veterans, and their families) shares some common traits: they often go through regular relocations, are stationed far away from loved ones and have a close-knit community of friends and neighbors. According to one study, word-of-mouth recommendations and reviews are key for this market, especially when coming from a trusted source.
Consider influencer campaigns with coupons or discounts, as well as promotions centered around travel and vacation or summer moving. This is a market that's looking for more than lip service: authentic content from military influencers who understand the community and their needs will ring true.
2. Food
Food-focused parenting creators cover a diverse selection of topics and recipes on their platforms, and many are available for not only sponsored content but recipe development, photography and brand ambassadorship.
These influencers often include a parenting element to their content, such as introducing solids or coming up with healthy, creative snack ideas. They're ideal for partnerships promoting food brands, kitchen tools, takeout (for those nights when everyone's too busy to cook!), grocery retailers, and much more. Sponsored recipes are always a great option for this category, as is content centered around family traditions, holidays, parenting experiences (getting kids to eat vegetables, for instance) and entertaining.
For example, Sway Group recently did a campaign for our client Stonyfield which featured a post from a millennial mom blogger titled "5 Ways to Get Your Child Active This Spring." Bright, pinnable images accompanied her content along with her tips for focusing on activity, which included the brand's healthy on-the-go snack messaging.
3. Homeschooling
Homeschooling has been on the rise and now includes approximately 3.5 million children each year. Homeschooling parents are looking for more than home education products; they're often interested in life experiences, creative learning solutions, and family-first topics in general.
Weaving promotions into relatable stories, advice, activities and tips can be a great way for brands to reach homeschooling audiences. Try sponsoring useful evergreen content like printables, a summer bucket list, DIY tutorials or recipes.
4. Frugal/Couponing
Parenting influencers with a budget-conscious focus may not immediately come to mind as a sponsorship partner, but their passion and highly engaged audiences are perfect for promoting rewards programs, coupons/discounts, financial services or any product with a money-saving benefit.
Brands should consider family-oriented topics that offer real value for audiences: a top 10 list for saving money during the holidays, how to vacation on a budget, back-to-school shopping under $100, etc. As an example, for a campaign we ran with FreeShipping.com, one frugal-focused influencer helped promote FreeShipping.com with a holiday-focused post on saving money by using the client's cash-back service.
5. DIY/Craft
The creativity and inspiration shared by do-it-yourself parenting influencers is matched only by their variety. From professional designers to home craft enthusiasts, this bustling niche offers endless opportunities for brand partnerships.
We've found that videos and tutorials do very well with this market, as do before and after images. Pinterest is one of the most popular ways to search for this type of content, so make sure your campaign includes eye-catching images sized to Pinterest's preferred image ratio (2:3), with large readable text and your brand URL. (Many of our influencers use Canva for discovering and customizing Pinterest-ready templates.)
Today's parenting creators cover everything from fashion to health to travel. Regardless of the topic, they're inclusive of much more than the clichéd "mom" image: dads, parents of color, LGBTQ+ and blended and adoptive families are all part of this diverse and thriving content creation. As platforms continue to evolve, so too will content trends, but the core nature of parents connecting with one another over shared interests will remain.
Brands that help foster those connections with relevant, interesting content will resonate.
Talk to us today to learn more about how we can help you connect with your ideal target market.
Originally published on Forbes.