We have great news for anyone considering TikTok influencer marketing in 2022: thanks to our technology partner CreatorIQ, Sway Group is now able to offer exclusive first-party insights and metrics from TikTok campaigns.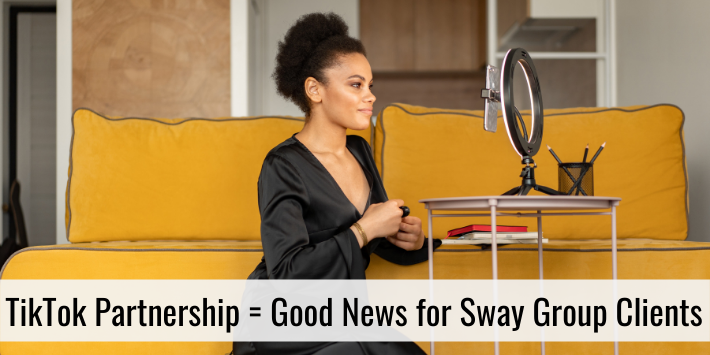 CreatorIQ was recently named an official TikTok Marketing Partner, becoming TikTok's first SaaS-only influencer marketing platform partner. Under the arrangement, CreatorIQ will provide access to key TikTok creator and content metrics that are available in the TikTok Creator Marketplace.
Sounds great for CreatorIQ, but what does this mean for Sway Group?
We're so glad you asked! It means that as an agency partnered with CreatorIQ, we will have direct access to TikTok's exclusive first-party insights on audience demographics, growth trends, best-performing videos, and more.
Not only will this help us find the best creators for our clients to work with, but we can also now provide first-party (aka directly from the platform) audience data for our clients' sponsored TikTok videos. Videos are often viewed by more than just the creator's audience. They may show up on TikTok's "For You" page or as sponsored videos we've turned into Spark ads.
First-party data is important because it's directly from the platform, as opposed to guesses and assumptions made from incomplete (or influencer-reported) information.
We'll now have access to demographics data (such as age, gender, location, etc.) for everyone that has actually seen the videos, giving us insight into who the content appeals to and letting us know if we are reaching our client's target audiences.
We're very excited to be able to improve our discovery and reporting capabilities on TikTok, because this red-hot platform is showing zero signs of slowing down in 2022.
TikTok is an important element of CreatorIQ's mission to connect global brands and agencies with creators as the single source of truth to manage and measure every aspect of influencer marketing. TikTok has quickly become a critical platform for both brands and creators, reporting more than 1 billion monthly users, while CreatorIQ has identified engagement rates as high as 15% across multiple categories in a recent analysis.  — CreatorIQ
For more about how to incorporate TikTok into your influencer strategy, check out our blog post titled TikTok Influencer Marketing: 5 Expert Tips For Success.
And if you're ready to learn more about this partnership and why it's beneficial to Sway Group clients, just drop us a line!