The novel coronavirus. National and state lockdowns. Black Lives Matter. Police protests. Corporate diversity (or more often, the lack thereof) landing in the spotlight. Suffice to say that 2020 has been through no shortage of major historic events so far, including a growing demand for brands to do more than offer lip service when it comes to their stance on some of the major issues confronting consumers today. We have some recommendations on best practices when it comes to social issue marketing needed in today's environment.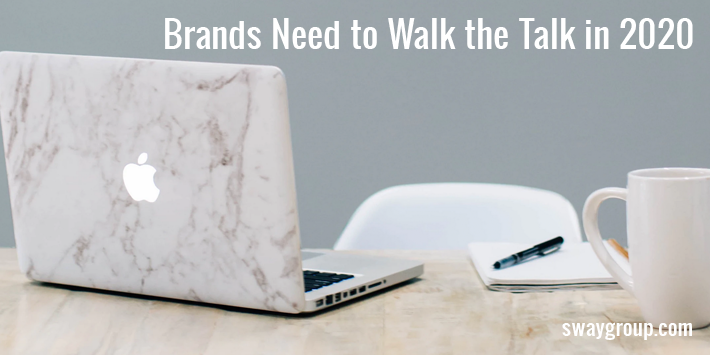 If 2020 is the year of (fill in the blank with your crisis of choice), it's also becoming the year of companies being asked to communicate their ethical positioning — and more importantly, how they actually match their actions to their words.
Not only are brands faced with the ongoing challenge of keeping up with ever-shifting market conditions and consumer buying behaviors, but more and more consumers (particularly Gen Z and millennials) also want brands to take a stand on social issues through their marketing efforts.
For many consumers, it's not enough for brands to issue a statement, share a hashtag or promote a one-time donation. Many want to know that the brands they support embody a purpose that reflects their own views and principles, and these consumers will reward their loyalty to brands who put action behind their stated values.
The Power Of Taking A Stand
Here at Sway Group, we often help our clients demonstrate their brand activism through influencer outreach. Influencers have the trust and credibility that audiences are drawn to, and can share corporate initiatives within their own like-minded views on social, environmental or political issues.
While influencer campaigns can be an extremely effective way to connect with targeted consumers, many businesses rely on their brand-owned social channels to get the word out. Apple CEO Tim Cook recently announced via Twitter that they have launched Apple's Racial Equity and Justice Initiative, with a $100 million commitment.
What's particularly powerful about Apple's initiative is that it doesn't just pay lip service (or the $100 million) toward the need for making a lasting change: The company followed up with a guide for parents and teachers who are helping students address complex issues surrounding race.
More than ever before, customers expect the companies they buy from to stand up for issues that matter, but corporate social responsibility needs to go beyond statements. Without action, brands run the risk of being perceived as performative — or worse, expressing solidarity while continuing to contribute to systemic inequality.
What's Wrong With Staying Silent in Your Marketing?
Brands that opt to stay silent on pressing issues may choose to do so out of the belief that neutrality is the safest route to avoiding criticism. However, silence has been increasingly seen as complicity from cause-focused consumers.
As Aaron Sherinian, CMO and communications officer at the United Nations Foundation, recently told The Drum,
"Silence on social issues could be the kiss of death for brands, especially [if you look at] the way that young customers are engaging with them right now. They're going to vote at the cash register…Customers, clients and constituents are not going to read silence anymore as safe. They're going to read silence from brands [and ask]: 'Why weren't you working on it? Why weren't you telling your story? Why weren't you being accountable?'"
Of course, it's not as simple as making a statement and calling it good. Even as more people demand public engagement from businesses on social justice issues, brands must overcome consumer skepticism. One recent survey revealed that four in 10 U.S. consumers say that brands are "trying too hard to appear as if they care about anything beyond sales."
Communicating Real Action (Not Just Lip Service!)
While the Black Lives Matter movement has spurred many brands to chime in with their support, some of the reaction has been less than positive. For some brands, the perception is that their posts have been a calculated response more than a true commitment to purpose-driven company values.
Brands need to go beyond token public statements to sharing what they're doing as a business to implement meaningful change. However, it's critical that any brand-shared statement or declaration of action be authentic. Not only is brand lip service something that consumers see right through these days, but also informed consumers are not hesitant to call out businesses for their past actions that do not align with their statements.
Don't Wait For Consumers To Force Your Hand
In the wake of global sustained protests and movements against racism and prejudice, some consumers have specifically been calling for companies to reveal their commitment to diversity. For example, Uoma Beauty founder Sharon Chuter launched the #PullUpOrShutUp challenge via Instagram, which gave major beauty brands 72 hours to "release the number of black people they have employed in corporate roles, as well as leadership roles."
Other advocates have been asking businesses to get specific about how they're supporting anti-racism causes, down to the dollar amount of donations as well as accountability and transparency around hiring practices and other internal policies.
In other words, brands that choose silence may face getting publicly called out — and brands with statements that feel empty or disingenuous can expect the same.
The Final Word
When it comes to brand responsibility and communicating values, it's no longer enough to put out a social media post and call it a day. Even the most beautifully crafted positioning statement is meaningless when true corporate solidarity isn't happening behind the scenes.
For the companies who are making real and lasting commitments to the social issues they support, it's time to show — not just tell — consumers about the actions happening behind the scenes. Whether via brand-owned channels or through social influencer partnerships, this is a chance to build deeper bonds and loyalty among existing consumers, as well as win new business.
Want to learn more about how Sway Group can help your brand values come to life through targeted influencer marketing? Get in touch today for a custom proposal.
This article was originally published in Forbes.