How do you make influencer marketing work when people are tuning out ads and drowning in information overload? One of the best tricks for running a successful influencer marketing campaign is a relatively simple one: it's all about the angle. In this article (originally published on Forbes), we'll share the #1 Sway Group secret weapon for making sure our campaigns connect with this influencer strategy.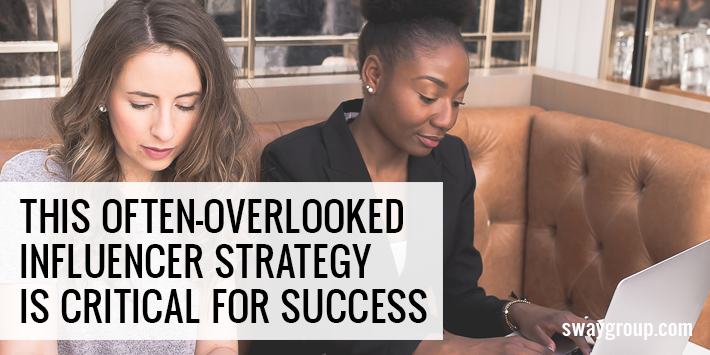 Why the Content Angle is Critical for Influencer Strategy
Information overload is a real thing; as a result, the deluge of data in our modern world means people are skimming rather than reading. Content needs to stand out, provide value, and be relevant to audiences, or it will be tuned out.
Bottom line: no one has time for ho-hum reading any more.
We know consumers are drawn to influencers and influencer-like content because it's compelling and relatable, and it provides the peer-endorsed context people respond to. With 84% of consumers trusting online peer reviews as much as recommendations from friends, influencers are the perfect way to connect with audiences, but the content has to be right. Start by truly understanding your target demographic: what are they interested in? How can your messaging be crafted to meet their needs?
A good content angle not only helps influencers do what they do best, it adds substance and authenticity to what could otherwise be a stale sales message that misses the mark. By investing some effort up front to your campaign content approach, you're much more likely to get the results you need.
Encourage a Story To Take Shape
Great content serves your ideal customer through compelling storytelling, whether that's via written word, images, video, or all of the above. Let's say you're looking to promote your line of comfortable, stylish fitness apparel. You could simply supply influencers with a press release, product imagery and key messaging, but the resulting content would likely read like a sales brochure.
Instead, let influencers get creative with the setup: with a prompt like "share your top workout clothing annoyances," an influencer could write a funny post about the (oh-so-relatable) embarrassment of ill-fitting leggings that roll down during a workout, providing comic relief while positioning your brand as the solution to a common problem.
Fashion-oriented influencers could promote your brand as part of a story about their go-to choices for outfits that easily transition from the gym to the coffeeshop with friends. Or perhaps health-savvy influencers could share their personal experiences with weight loss struggles, and how having clothes that feel good and look good help them stay committed to a workout routine.
The idea is to find a fit for your product or service within a story that feels like an organic topic for the influencer and is timely and useful for the audience. As an example, a food brand could start a discussion based on the fact that September is a high-search time for easy weeknight meals; asking influencers to share their favorite quick weeknight meal ideas allows influencers be creative in their presentation and helps the brand take advantage of a timely topic. This type of influencer-created content will have evergreen performance that spikes every year in September.
A shoe brand could be featured within a conversation about must-haves for travel, a sparkling wine could be the highlight of a post focused on entertaining — and recipes, packing lists, or decorating tutorials could accompany these topics for long-lasting value and reach.
Your brand is the what, and your content angle is the how. How can influencers bring you into their existing conversations? A great angle never feels like a commercial break, it's a seamless extension of an influencer's content programming.
Ask for What You Want — But Don't Get Overly Specific
On that note, remember to allow influencers to use their voice. A content angle should be structured as a creative prompt rather than rigid brand language that you expect influencers to use word for word. You should be clear with what you're asking for, but don't get too confining with what you want influencers to say.
Today's media-savvy consumers have learned to ignore the ads they have become skeptical of (IE, basically all ads) in favor of truly relevant and useful content. The job of the content angle is to allow your awareness tactics to blend into the form and function of the content around it. By allowing influencers to share your messaging in their own tone and language, audiences get an uninterrupted experience, with the authenticity they came for.
When you prioritize the development of a solid content angle, you greatly increase the chances of connecting with your influencer's audience. In the end, a strategically created influencer campaign can increase visibility and provide third-party validation of your products and brand promise — but even the best storytellers can't win hearts and minds with a bad story. Give influencers a creative playground and the freedom to do what they do best, and you'll be amazed at the results.
Want to learn more about how we help brands come up with the best content angles for their campaigns? Get in touch today!