We're excited to share some big news at Sway Group! We've launched a new service called Massive Sway.
This innovative program is designed to amplify the reach and impact of your influencer campaigns, through a cost-effective approach focused on tapping into the potential of everyday digital creators.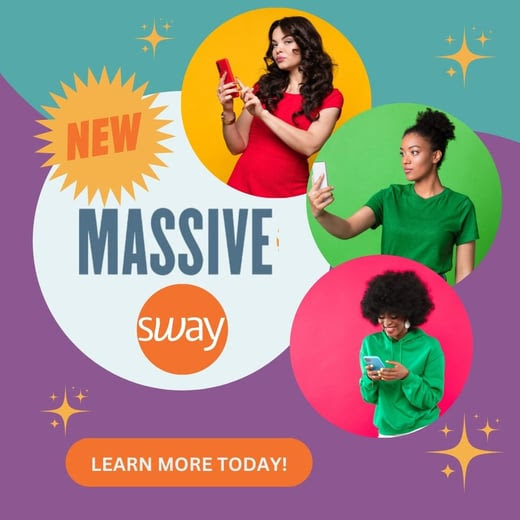 Massive Sway is all about collaborating with a diverse array of creators on a large scale. In simple terms, these are regular people who love to share cool stuff with their friends and followers, and their influence often resonates more genuinely and deeply compared to celebrity-tier mega-influencers. Massive Sway can be particularly beneficial for launching a new product to grassroots audiences, spreading word-of-mouth in niche communities, or when seeking authentic user testimonials for products and services.
These influencers' connections with their followers are built on trust and relatability, making their endorsements feel more like a recommendation from a friend. With Massive Sway, we're harnessing that genuine connection to bring a more authentic and impactful voice to your campaign — and by engaging with these creators at scale, we're able to magnify the collective impact, offering immense value for your brand.
Here's how Massive Sway works:
We handpick a large, diverse array of targeted influencers that align perfectly with your demographic needs (IE, we find the right vetted people for the job, whatever the job might be).
Upon your approval of a concise influencer brief detailing content direction and key messages (you tell us what you want them to talk about, or we can figure it out together!), influencers are provided with gift cards that allow them to purchase your products or access exclusive experiences.
Influencers then craft compelling, short-form videos (up to 60 seconds) tailored for Instagram or TikTok, sharing their genuine experience and engagements with your brand.
Every single piece of content undergoes rigorous scrutiny by the Sway team to ensure adherence to FTC guidelines (have you seen the updated FTC regulations?) and platform-specific compliance, with creators receiving payment only after any required fixes are completed.
We make sure more people see these videos by promoting them in the right places: our team leverages your Massive Sway campaign with strategic paid amplification (demographic and geo-targeting) to capture key audiences in your chosen markets.
You'll receive an exhaustive campaign summary report (either at the end or throughout, depending on campaign longevity) that provides invaluable insights into the performance and reach of your campaign.
With Massive Sway, client reviews and touchpoints are limited to expedite volume campaigns. However, Massive Sway doesn't just streamline the process; it supercharges it, ensuring that you receive an unparalleled volume of campaign content tailored to resonate with your target audience — all while maintaining efficiency and quality.
Let's chat today about what a Massive Sway campaign can do for your business!
Cheers,
Danielle
P.S. The Art of Sway Podcast Episode 40 is out now! Listen in as Meagan Francis, host of The Mom Hour podcast and entrepreneur extraordinaire, takes you on a journey of transformation and tenacity. From a vibrant career in radio broadcasting to founding a bookstore in the scenic Upper Peninsula of Michigan, Meagan's journey embodies resilience and personal reinvention. Tune in to the episode to hear reflections on her triumphs, learnings, and the incredible power of adaptability that will inspire you to explore the boundless potential for reinvention in your own life.