In 1996, Bill Gates declared that 'content is king.' It's a statement that remains true today, even if the marketing world can't quite agree about who the queen might be. Is it distribution? Conversion? Engagement? Activation? So many stock-photo-themed business quote graphics, so little time!
At Sway Group, we're downright evangelical about the power of quality content. Why? Because when it comes to creating awareness and starting conversations, content is what continues to matter above all else. These sponsored post tips are sure to help you create genuine content that best amplifies your brand's message.
Great content is the fuel for all our campaigns, and it's particularly important for sponsored posts. While each influencer in Sway Group's network has his/her own unique way of approaching a sponsored post assignment, here are a few of our experts' tried and true sponsored post tips.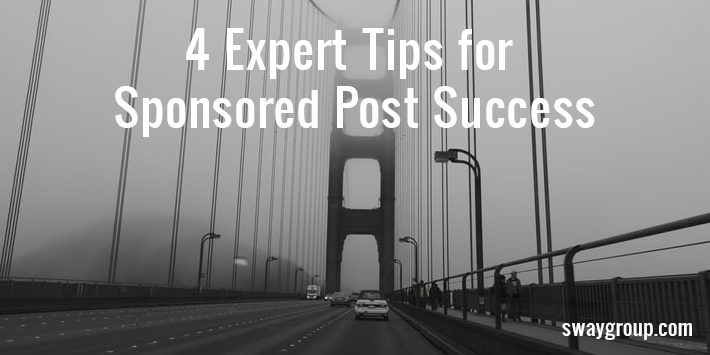 4 Sponsored Post Tips for Creating Great Content
Our experts share their sponsored post tips for marketing success:
• They get creative with the prompt. Brands, influencers, and audiences all want authenticity in a sponsored post campaign. That's why core messaging is so often used as a jumping-off point for a personal storyline. Savvy influencers are always raising the bar for one-of-a-kind content that resonates with their audience, whether it's by featuring humor, working in commentary on current events, or simply sharing relatable anecdotes from their lives.
• They share their expertise. A popular food blogger might choose to share a custom-created recipe in a sponsored post. A fashionista might style an outfit. A craft blogger might post a step-by-step tutorial. Influencers have learned how best deliver a brand message in their own signature style so that it seamlessly blends into their feed.
• They make it easy on the eyes. Big, beautiful, pinnable images can be the key ingredient to a viral sponsored post campaign. Photos not only help tell a story, but we've found that posts with images are read more, shared more, and spark more engagement.
• They follow the rules. Transparency is a must for branded content. A compelling sponsored post that complies with FTC guidelines as well as Google's search engine Terms of Service is where paid strategy results in earned media. It's also why brands need to prioritize working with influencers who are skilled in the art of disclosure. At Sway Group, we not only educate influencers on current requirements, but our Quality Assurance team also reviews all sponsored content to guarantee that guidelines are being met.
Keep Reading
Looking for more sponsored post tips? Check out the links below!
Let's Make Your Next Sponsored Marketing Campaign a Success!
These sponsored post tips are great examples of how working with influencers can help you create organic content that generates brand awareness. Contact us to learn more about how our network of influencers can make your sponsored marketing campaign a success: