It's the time of year that you need to be asking yourself the tough questions: Are you going to start to fold the clothes as soon as they get out of the dryer? Did you hit your goals both professionally and personally in 2018? And most importantly: Is your brand's influencer marketing strategy ready for 2019?
Now is the time to be developing all of your influencer programmings for 2019. We know that influencer programs are a subset of your broader marketing plan, integrated with other media and PR tactics, all of which are geared towards maximizing your reach. Piecing together the big-picture strategy can be a lengthy, internal process, and that is before you get down to the nuts and bolts of designing an influencer marketing program.
Create Success in 2019 By Planning Your Influencer Marketing Strategy Now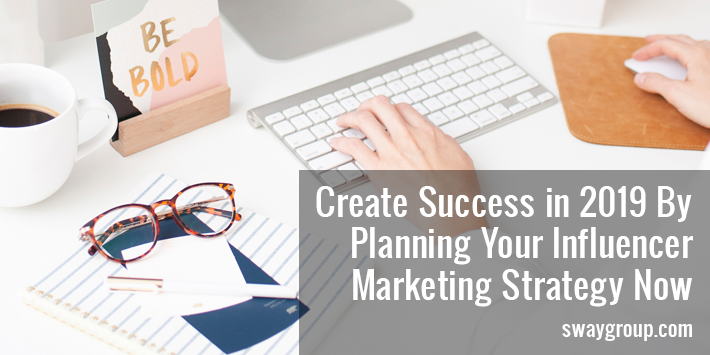 Regardless of whether you run your campaign in-house or outsource the work, the key ingredient to every successful influencer strategy is a strong foundation. Additionally, a true strategy should be built on four key criteria that drive success in influencer marketing: platform insights, social and search trends, a strategic content calendar and engaging the right influencers.
This is where Sway Group comes in…
We rely on years of expert program execution to develop effective tactics for our clients, all of which begin with defining the desired outcome. Your key objectives will determine who to target, when to launch and which social media platforms to use. Those choices will then drive the content and tactic strategy for your campaign on each platform.
From there, we begin recruiting key individuals known for producing and sharing content that has the strongest potential to impact our client's business. Our execution processes include key milestones throughout a program, including product fulfillment (for incorporation into photography, reviews and/or giveaways), clearly-communicated influencer deliverables, client approval of content, and quality assurance checks of live content – just to name a few. At the conclusion of any program, we deliver a comprehensive report that helps illustrate ROI and performance against your key objectives.
The right partnership, the right tools, and the right execution can exceed your wildest business goals. Talk to us today about what you're planning for 2019 – we're sure to be able to help.