With the Pinterest Visual Search, planning your Pinterest for business strategy is made easier by showing users your product's name and where to find it.
In almost record time, Pinterest has become one of the leading visual consumer sites, and it shows no signs of slowing down. Now, with the Pinterest Visual Search feature, Pinterest shows users a product's name and where to find it, even letting users buy the product directly from retailers.
So what does this mean for marketers? It means more prominent opportunities for your brand and products to be visible and obtainable through social media. So how are we capitalizing on Pinterest in marketing strategies? We've got four easy tips you can start with today: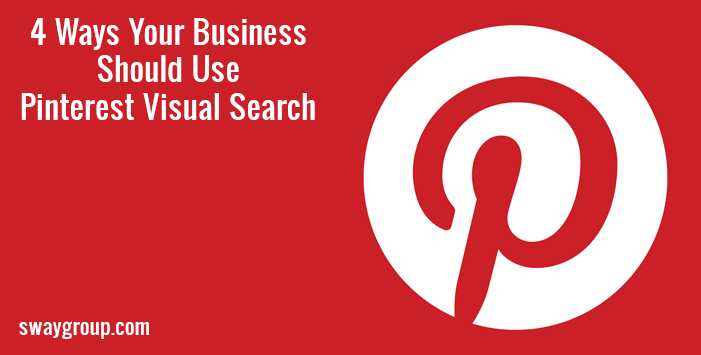 4 Ways Your Business Should Use Pinterest Visual Search
Don't Hesitate to Participate
If you're not already on Pinterest, join ASAP! Create a strong presence for your brand with multiple boards and pins. Make it easier for users to discover your content by creating lots of it. However, remember that this is a visual platform. Make sure that the content you pin represents your brand visually. Take the time to utilize key words specific to your brand or product in the Pin descriptions to rank higher in searches.
Optimize Owned Assets Online 
To share the best content, make sure your brand's website has updated imagery, relevant products, and high-resolution photography. So when an image is pinned, it provides a better user experience within the Visual Search feature.
Leverage the Shopper Mindset
As Pinterest users are discovering items they want or need with Visual Search, you should be there to provide them with quick solutions to make the purchase. To do so, utilize the Buyable Pins feature. This will help users purchase the desired item directly through the Pinterest app.
Please note: Buyable Pins are key – 87% of active users have purchased a product after discovering it on Pinterest.
Feature Multiple Products in Pins
You can increase Visual Search opportunities by showcasing multiple products within pins. By including more boards, more pins, and more products, your users can easily discover your content.
As Pinterest grows into a major player in the online search space, utilizing Visual Search is an opportunity your brand doesn't want to miss. Learn more about Visual Search on the Pinterest Blog.
Keep Reading:
Interested in learning more? These posts will help:
Let's Make Those Pins Work Harder for You!
Contact us to learn how you can become part of the online conversation and tap into our network of more than 90,000 influencers to drive awareness around your Pinterest campaign.