At Sway, we are committed to empowering women and elevating their voices. That's why we have an obligation to share our perspective on the FCC's plan to eliminate net neutrality and the impact it could have on our community and the country as a whole.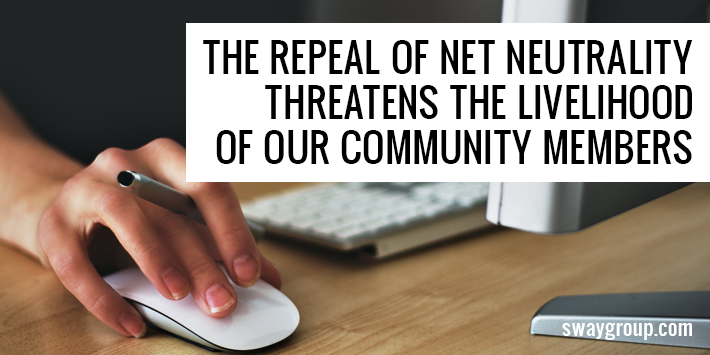 The open internet has allowed people, especially women, to have access to education, community, and income opportunities in ways no one imagined would be possible 20 years ago. In our own community, The Sway, we have seen women turn their online influence into a career. These women are able to make a living wage while being present with their families, setting their own schedules, and pursuing their passions while exercising their creativity. They are building small businesses, often employing staff or hiring independent contractors as they grow, and helping to grow our country's economy.
The open internet has created a marketplace anyone can access and benefit from, regardless of their education, socioeconomic status, or location.
If we lose net neutrality, it is the everyday American – the small businesses, the entrepreneurs, the dreamers – who will suffer. Small business owners, especially content creators, influencers, and online entrepreneurs, might not be able to compete. As internet service providers create fast and slow lanes, charging businesses, websites, and apps for faster loading speeds, and charging consumers more to access the full internet, the cost for influencers to maintain websites that are highly trafficked will become prohibitive. Companies and consumers will find themselves paying more for an internet that is a shadow of its former self. And, suddenly, we could find ourselves in a world where the type of content you get to enjoy is either decided for you or you have to pay a premium for it.
Not only will this hamper the earning potential of influencers, it will hold back innovation in marketing, business, and education. Video will become an asset viewed only by those who are able to pay more for their internet or mobile package with enough bandwidth for video content. Live streaming will no longer be a tool for connecting with your community online, because many people may not have an internet package that allows for it. Social networks will no longer be an easily accessed platform for free speech. Schools, some already struggling to provide fast enough internet for their students to access useful online materials, may find themselves unable to meet students' needs. Many new ideas and startups that would flourish in today's internet will die out before they have a chance to succeed.
Many women who have important stories to tell will be effectively silenced by the lack of consumer access to their words. Right now, with net neutrality in place, ISP's can't relegate websites with speech they disagree with to a lower status than sites they want to promote. This is a protection of everyone's free speech and creates space for new and innovative ideas to flourish.
The loss of the open internet will change the economic landscape in our country as the effects of reversing net neutrality protections ripple out beyond cyberspace to touch the real world.
More and more people are making their primary income online now, but with internet service providers in control of what you can and can't access online, many people will lose their source of income. Influencers who were once able to provide for their families and support their employees will no longer be able to run their small businesses. The small business economy, therefore our country's economy, will suffer.
The reversal of net neutrality protections is an assault on both speech and business. Our influencer community is a world where business is built on speech — influencers leverage the words they write, the images and video they create, and their ability to build connections and touch the lives of people across the country — and consumer access to the open internet is imperative for their business to survive.
Help us protect the open internet and advocate for both our amazing community of influencers and your own rights. Call 1-202-418-1000 to reach the voicemail of the Chairman of the FCC. Say your name, city, and state and that you OPPOSE the REPEAL of Net Neutrality.
Thanks to John Oliver there's a SUPER easy way to do this online:
1. Go to gofccyourself.com (the shortcut John Oliver made to the hard-to-find FCC comment page)
2. Click on the 17-108 link (Restoring Internet Freedom)
2. Click on "express"
3. Be sure to hit "ENTER" after you put in your name & info so it registers.
4. In the comment section write, "I strongly support net neutrality backed by Title 2 oversight of ISPs."
5. Click to submit, done. – Make sure you hit submit at the end!
**Feel free to share this**