Mother's Day is ranked third in consumer spending, following only the winter holiday and back-to-school shopping seasons. In 2017, the average American spent $124 on their Mother's Day gift – which adds up to a total of $30.309 billion in Mother's Day spending last year. Looking closely at the data, we see that the millennials are the most generous when it comes to shopping for mom, spending an average of $296. And Generation X also came in above average, coughing up $137 for their moms.
With Mother's Day approaching fast (it's the second week of May, we might remind you), now is the time to start thinking about your brand's strategy for marketing to moms and the people who buy for them.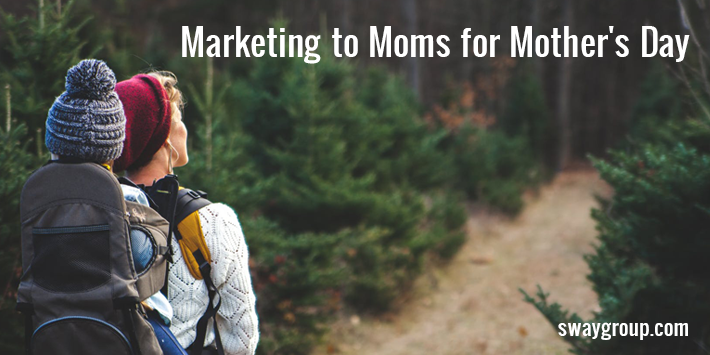 Marketing to Moms on Mother's Day
What do moms want? While most will buy her favorite flowers and a greeting card, many will go a step further with clothing, jewelry or consumer electronics. Personal experience gifts, like a day at the spa and special outings to a restaurant, are also wildly popular. Flower shops are no longer the one stop shop for all things Mother's Day gifting.
The reality of Mother's Day is that ultimately moms are buying their own gifts. Whether that be dropping hints, making Pinterest boards, or just communicating with family members what they want – they are calling the purchasing shots.
Fur-iendly Reminder: Not all mothers are moms to humans – pet mothers and their furbabies are celebrating the holiday, too!
Where to Find Them
Ask any tech-savvy mom about her favorite social media platforms and she's likely to mention visual-based sites like Instagram and Pinterest. Today's moms are power users, and they're more demanding than ever when it comes to fine-tuning how they spend their time online. Busy moms are less likely to respond to traditional advertising on social media, but they're always looking for personal recommendations, valuable content, and authentic experiences they can relate to. These days, consumers look to social media to help inform their purchasing decisions.
Moms are using Instagram and Pinterest to share and view content that they genuinely care about. In order to ensure you're effectively marketing to moms, you need to grab their attention through fresh visuals, and you need to keep that attention with valuable content.
Authenticity is Key
Moms expect authentic connections with brands. They want to be valued and heard, and they want to feel like they matter as an individual. That said, you can't just put all mothers in one bucket within your target market. The women in your audience are also sisters, professionals, friends, athletes, and neighbors. Listen and engage with your mom audience, and value them as individuals in your communications with them.
The Role of Mom Influencers
Many brands want to work with mom influencers because their biggest audience demographics are moms themselves. With moms controlling approximately $2.1 trillion dollars of spending per year, it's a group that can be lucrative to reach. And since 74% of consumers rely on social media to inform their purchase decisions and marketing inspired word-of-mouth generates twice the sales of paid advertising, utilizing influencers can drive much more effective results than traditional advertising when marketing to moms.
That said, there are certain ways to approach mom influencers. Many brands and PR agencies struggle to connect with mom influencers. PR agencies often send out blanket emails in bulk with pitches, many times without a structured influencer program or any form of compensation in place. As you can imagine, this results in a lot of deleted emails and rejections. In fact, 2/3 of influencers reject at least half of the pitches they get from brands.
How Can Influencers Help You Reach Moms This Mother's Day?
At Sway Group, we help our clients communicate with their audience through comprehensive influencer marketing campaigns. Mom and parenting influencers make up a huge portion of our influencer community and networks. Interested in tapping into our resources? Contact us now to start brainstorming!