Instagram is an undeniable marketing channel if you're looking to target Gen X and Millennials, as two-thirds of the platform's users are between the ages of 18 and 44 according to eMarketer. Millennials spend more than 5 hours a day on social media viewing User Generated Content (UGC) – which is 20% more influential when it comes to purchasing and 35% more memorable than other forms of media, according to a study by Ipsos.
Social media measurement start-up Simply Measured's analysis of brand research shows 86% of top brands incorporated Instagram into their marketing strategies during third quarter of 2014, representing a 15% year-over-year increase. Cool fact: Forrester Research, Inc. reports ‪Instagram receives almost 60 times more engagement than Facebook and many brands are shifting their social media strategy to keep up.
Sway Group CEO, Danielle Wiley, spoke at the SMX Social Media Marketing Summit to share Instagram tips and best practices for brands to succeed in Instagram's visually oriented social network. Below are her eight tips with examples of brands getting it right. View her full presentation here for more insight and illustration of the examples mentioned below.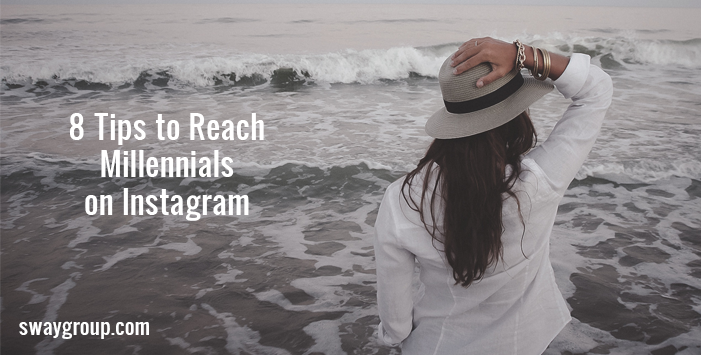 8 Instagram Tips for Success In Instagram Marketing
These Instagram tips are sure to make your social media marketing campaign a success:
1. Encourage Participation from Your Community
@food52 does a nice job of this by encouraging fans to share their own photos with a tag for a chance at a regram on the popular site. This technique is great for two reasons. The first being that it automatically sparks engagement from your followers and potential customers. The second is that you don't have to create new content because you're repurposing your followers' posts on your own account. Therefore, you maintain your audience's interest without putting in any extra work.
2. Engage Influencers to Post on Your Behalf
The trust and engagement that they have with THEIR audience will almost always trump that of a brand. That's why working with an influencer is a sure-fire way to increase customer loyalty. Since they trust the influencers and look for their advice on new products to try, they'll be eager to check out your account or website in order to be like their idol.
@ShopYourWay is a prime example of influencer marketing in action. It's an innovative shopping community built around an individual's social network. By tapping in to teen influencer, Ricky Dillon's social network, Shop Your Way created organic reach and buzz among a new target, driving traffic to their website.
3. Focus on Post Tagging and Caption Content
Especially now that you can edit your captions, take advantage of your keywords by adding hashtags. Large grocery retailer, @wholefoods, uses multiple hashtags, including location and popular products to attract new followers.
Viewers will also tag one of their followers in the comments as a form of forwarding an FYI. Consider posts that your followers will be inspired to tag others.

4. Use Hashtags Wisely
Speaking of hashtags, consider using meme tags or tags that are trending to capture more eyeballs, as appropriate.
@NBCTV utilized #WCW (Woman Crush Wednesday) to promote the female stars of its Wednesday night line up. Note: The hashtag must make sense for your brand. Don't jump on the bandwagon as a purely promotional tactic.
5. Balance Fun with Business
@anthropologie knows their viewers well and posts cute dogs peppered in with pictures of their bedding to bring personality to their feed.
6. Tag Other Instagram Handles
Posts that include another user handle in the caption receive 56% higher engagement. This is a great way to increase your SEO and it's super easy to incorporate. The trick is to find a brand that matches your theme. From there, all you have to do is tag their account directly in your picture. You can choose to write a creative caption underlining the brand, but it's not necessary since the brand will automatically be notified that you've tagged them in your photo once you hit 'post'.
@designaddictmom utilized this technique to her advantage by posting a photo of her child's room and tagging @ikeausa in the post. Her post skyrocketed in views which not only got eyes on her post, but also drove traffic to Ikea's website.
7. Reward Followers with Instagram-Only Promotions
The #ExperienceMichelin campaign is an awesome example of a contest based solely on the creativity of the photos submitted by its followers. Be sure to check it out!
8. Focus on the image
Instagram is all about posting visually pleasing images that resonate with your followers. So take the time to edit your photos to make them stand out on your followers' timelines. Some of our favorite Instagram editing apps include PicPlayPost, Instasize, Afterlight, PicsArt, LineCamera and Moldiv. By utilizing a photo editing app, you can cut out the cost of hiring a graphics specialist. This way you're saving money while still producing stunning content that's sure to snatch your audience's attention.
Keep Reading:
Looking for more tips to making your post go viral? These posts should help!
Let's Help Your Next Instagram Marketing Campaign Go Viral!
A strong following, specific hashtags, and crystal-clear photos that emphasize your product's messaging are just the first steps to your Instagram marketing success. However, the key to making your post go viral is by working with influencers! Contact us to learn more about what our influencers can do for you!