Mark your calendars: Sway Group CEO Danielle Wiley will be presenting at the upcoming Social Media Strategies Summit in NYC on October 15-17. Her presentation is titled How Brands & Agencies Can Align for Micro-Influencer Marketing that Brings the Buzz, and in preparation for the event she's shared some thoughts with SMS Summit producer Breanna Jacobs.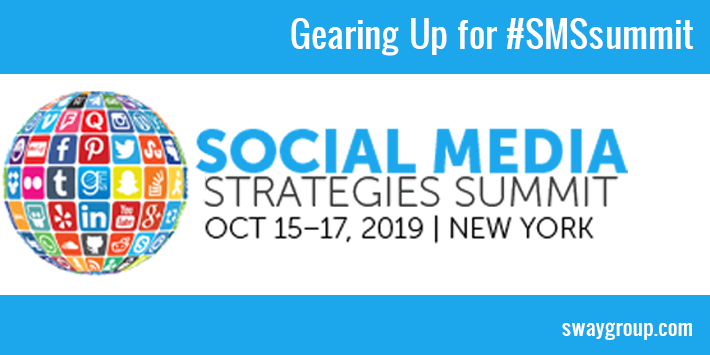 A few highlights from this interview:
How Sway got started: For two years, I was just kicking around the idea of starting my own agency. Eventually, the time was right to do it, and I launched the company in a very different way from how it runs now.
How the Sway influencer network stands out in the industry: That community was built originally as The SITS Girls, a place for women to access community, education, support, and sharing of best practices. We were built on this philosophy of education and support that's still really important to us today.
The Sway approach to service: When a brand starts working with us, they get a really big robust team. There are about eight to 10 people working on their campaign. We have the recruitment team, the QA team, analytics, account management, and the instructional designer who crafts our detailed post instructions.
A bit of the secret sauce behind Sway's successful campaigns: We've been doing a lot lately with a brand where it's all about driving clicks. It's all Instagram and we've been having a ton of fun with that. We're working with almost all micro and nano influencers, playing around with the mix of organic content, how much paid boosting we put behind it, watching follower counts. It's a pretty fun analytics game to figure out.
In your presentation "How Brands & Agencies Can Align for Micro-Influencer Marketing that Brings the Buzz", what's one of the topics you'll cover? I think a lot of brands see [working with an influencer marketing agency] as an either-or. Like, "I outsource this or I do it myself." And we're seeing increasingly that most of the brands that we work with, it's a combination. So they might work with all of their year-long brand ambassadors on their own, and then outsource some of the larger volume microprograms to us. We're hoping that we can show that there can be this really nice, symbiotic relationship, and they can integrate really well. We can just be an extension of the team.
Check out the rest of the interview here, or learn more about the upcoming NYC SMS Summit.