For the past year, Facebook has been releasing new, creative features that allow marketers to uniquely promote their products on social media and better engage with prospects. However, one feature that stands above the rest is Reactions. Facebook Reactions are a great tool for marketers to use to evaluate the strength of their content marketing strategy. How? Keep reading to find out!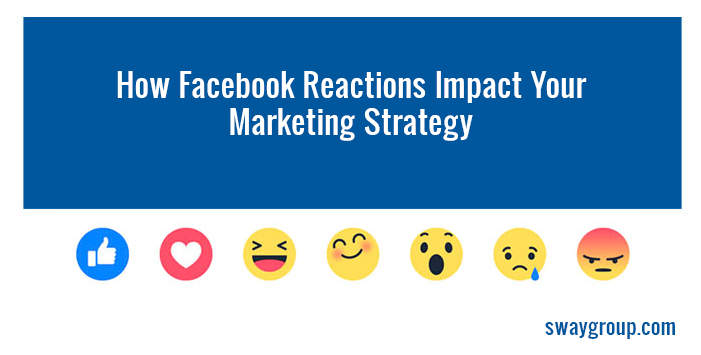 How Facebook Reactions Impact Your Content Strategy
Learn how to fine tune your content marketing strategy with Facebook Reactions:
Last year, Facebook rolled out Reactions worldwide. So, in addition to Liking a post, users can respond to posts with Love, Haha, Yay, Wow, Sad, and Angry. Facebook's new Reactions give users new ways to express how they feel quickly and easily. But how will this new update impact your content marketing strategy? And how can you stay ahead of the game so you're feeling more "Yay" and less "Sad" when executing a successful marketing strategy on Facebook? Let's start with a few simple insights.
A modest "Like" could mean a lot of things on a Facebook post, making it sometimes challenging for marketers to understand people's true feelings for a post. Obviously, a successful post might have a lot of Likes, but the exact reason why could be a little murky. With the new Reactions, marketers now have much more insight into why people engaged with content, which is a huge positive. Facebook users can share what they love, what makes them upset, what content impresses them, etc. This data provides a ton of additional insight for marketers looking to reach their audience in a more significant way.
Regarding reach, Facebook says they are now ranking Reactions higher than Likes. Since it takes more time and effort to use a Reaction than simply press the thumbs up for Like, they assume that means the person cares more about that content. Whether the Reaction is positive or negative doesn't matter – either way, Facebook algorithm ranks the content higher for that user.
Reactions have the potential to be great for both Facebook users and marketers alike. They give everyone greater insight into what's loved (and what's not) on Facebook. Users can better share their feelings, while marketers can learn how their content engages people. So what's your reaction to Facebook Reactions? Are you Liked or Wowed by them?
Keep Reading:
Check out these other tips to successfully marketing on Facebook!
Let's Make Your Next Facebook Marketing Campaign A Success!
Contact us to learn how our network of talented and diverse influencers can help you reach more audiences, create more engagement, and generate more leads!