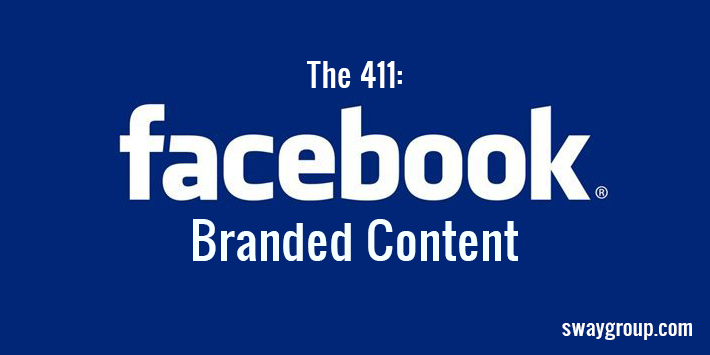 Facebook recently launched Branded Content, a new type of post for pages, and changed their policies surrounding pages sharing branded content. We have to admit: when we first heard about the new policies, we were immediately on alert and dove into researching how this would affect our clients and influencers. After all, we've been crafting compelling, effective sponsored campaigns on the platform for five years, and need to understand how this would affect our influencer programs.
After doing some research and talking to Facebook, we collected some major insights to help inform brands, marketers, and influencers and what need to know about these changes:
What is Facebook Branded Content?
Branded Content is a new type of Facebook post that allows verified pages to create a special tag for content that comes from a brand or sponsor. It is currently limited to verified pages (indicated by the blue checkmark next to their name). At the moment, Facebook is only accepting verified requests from celebrities, sports teams, public figures, media, and entertainment, but eventually plans to accept other types of pages.
Branded Content posts can include: text, videos, images, links, Instant Articles, 360 videos, and soon Live Videos. This will allow for a more direct partnership between pages and brands when it comes to sponsored posts. If your page is verified and you post branded content, the owner (AKA the brand) will be notified of the post and have access its analytics, as well as the ability to share it or boost it. (The brand will not have the ability to edit or delete your post, in case you're worried.) For more on the Facebook Branded Content policies, head over to Facebook to learn more.
How Does This Affect Your Facebook Marketing Strategy?
The good news: Unverified pages can still share sponsored content, as long as they own the content (e.g., it lives on their blog), even if they were compensated by a brand. This means our Massive Sway influencers can continue working on our campaigns as normal without having their pages verified and gaining access to Branded Content posts.
The bad news: Unverified pages cannot ask fans to make a purchase, including sharing affiliate links. However, they may share a link to a blog post that promotes a product, such as sharing a recipe post that highlights Minute Rice. They also cannot share a brand's content – for instance, sharing content created by Minute Rice to promote their products.
How Facebook Branded Content Affects Influencer Programs
The bottom line: While waiting for the blue checkmark verification and Branded Content to become available to all pages, influencers can continue to work on influencer campaigns and share sponsored content.
Influencers must continue to follow FTC guidelines for sponsored posts, always disclosing that it is sponsored (for instance, by including "AD" in their post). We require all of our influencers to disclose in every piece of sponsored content, and our team of Quality Assurance analysts review every posts for disclosure (learn more about our QA process and how we follow FTC guidelines).
If you are an influencer, join our Massive Sway network, powered by The SITS Girls, and gain access to our private Facebook group. You can connect with your peers, ask them questions, and share your own knowledge. You can also visit The SITS Girls for endless opportunities and resources for learning to develop and grow your blog.
Keep reading:
Looking for more on Facebook marketing? These posts should help:
Let's Make Your Influencer Marketing Campaign a Success!
If you want to run an influencer program, we can help. We will connect you with the best influencers for your brand and ensure your sponsored content is not only effective, but also follows both Facebook and FTC guidelines: