Overwhelmed by the amount of advice online for digital marketing? We get it: there's a tsunami of information out there, and it can be tough to figure out what's actually relevant for your business goals.
Influencer marketing is often presented as a standalone tactic, but it's most effective when integrated within a larger digital toolbox. In order to get the most from your digital marketing efforts, your content, brand, and social strategies should all be working together.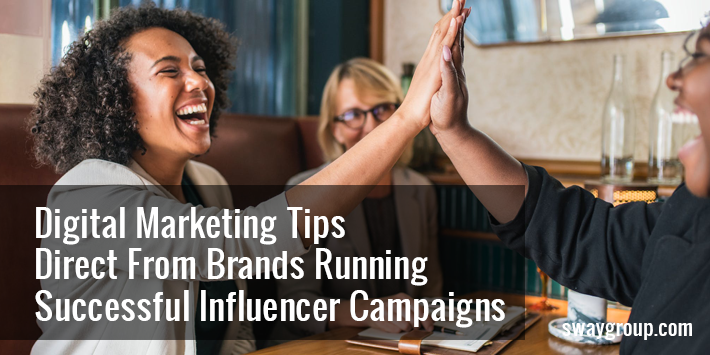 At Sway Group, we have an expert Insights and Reporting team who monitors every client campaign in order to optimize tactics and inform future strategies. Here's their top digital marketing advice from brands who have recently executed successful programs with us:
1. Identify Your Goals
The most important step you can take is to clearly identify what you want to accomplish from your influencer marketing at the very onset of your campaign. Are you hoping to spread awareness of your company's latest product? Drive traffic to a certain web page or video? Boost sales? Start a social conversation? Your KPIs — key performance indicators — not only help lay the groundwork for a strategic campaign, they're necessary metrics for determining success.

Once you outline your KPIs, it will be easier to determine which influencers are suited for your needs, and which platforms you should focus on. 
2. Prioritize Your Content Needs
Your digital marketing initiatives all rely on the same thing: content. From social posts to direct marketing and advertising, you need outstanding images and videos that encourage consumers to take action. Brands are faced with the need to create a high volume of content for their owned channels and marketing needs — but content for content's sake won't get the job done.
Today's consumers are looking for authentic stories and visuals, and social influencers can deliver this content in a way that's highly targeted and relevant. You don't have to launch an influencer marketing campaign to get this great content, either — our talented team of in-house creators can quickly produce the visual content you need, with no surprise fees or ownership limitations. Unlike stock photography and generic video, our custom-created images and videos are perfectly curated for today's social platform trends, ready for sharing and liking across the platforms that are best suited for your audience.
3. Partner with passionate influencers
Don't hire influencers who are simply going to repeat your messaging word for word on their social feeds. With consumer distrust on the rise, audiences are seeking more authentic content like reviews, peer recommendations, and brand transparency. Influencers provide the compelling, credible images and stories that resonate with today's consumers, on the wide-reaching social platforms where people are most engaged — but audiences know when enthusiasm is being faked. When you invest the effort in finding influencers who are a true organic fit for your brand, the resulting content is much more likely to resonate with your target market.

4. Activate, Measure & Revise. (Then Do It Again.)
We saved our best digital marketing tip for last: Influencer marketing isn't a one-and-done campaign. Each influencer marketing campaign yields valuable data points and key insights. For example, maybe a certain type of visual outperformed others on Instagram or a tone of voice took off on Facebook but fell flat on Twitter. You can never assume the same strategy will work on all platforms. Do a campaign. Figure out what you could have done better. And then try it again, with improvements in place. Influencer marketing is an iterative process!
Keep Learning
Looking for more tips on how influencers can help your brand? Connect with us today to learn more.