Talk to any brand getting started in content marketing and you'll likely discover a common goal: to impact the largest audience possible. ("I want my message to virtually disappear in a sea of online noise!" said no digital marketer ever.)
Quantity has value, which is why Sway Group has the ability to tap into more than 100,000 influencers for high-volume campaigns. However, our core focus is on quality, because it's not enough to blast consumers with impersonal, irrelevant messaging. Generic "spray and pray" advertising is not only being largely ignored by modern audiences, it's actually been shown to damage your brand.
We know that the most successful campaigns happen when the right person shares the right kind of message with — drumroll, please — the right audience.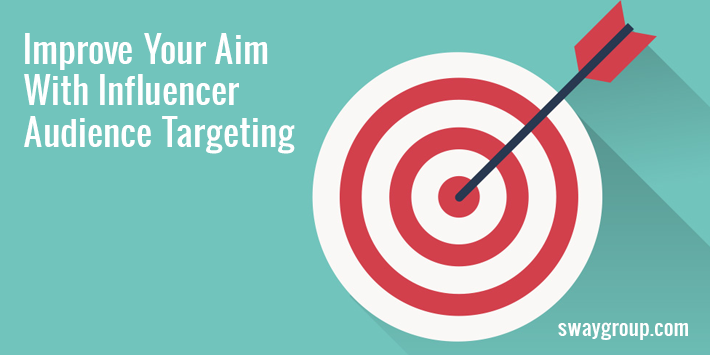 Improve Your Aim with Influencer Audience Targeting
At Sway, audience targeting is a critical part of our process, and it all begins with influencer recruitment. Our proprietary dashboard allows us to review in-depth information about our influencers, starting with demographic details and branching out to shopper insights, health and beauty considerations, lifestyle preferences, and more.
The most effective partnerships start with a great fit between brand and influencer, and we can help you find the perfect pairing. After all, if you're a brand looking to reach enthusiastic pet owners on the West Coast, an NYC fashion influencer probably isn't the best fit, no matter what her follower count may be.
Next, we start looking at audience data.
For content to truly resonate, you need more than just numbers: how about similar interests, behaviors, and locations? We use third-party data providers, platform APIs, Google Analytics, customized bit.ly links, and other tools to provide full reports on an influencer's blog and social media audiences in order to set up geo-targeted, demographically relevant campaigns.
In every campaign, our goal is to inspire audiences to connect with your brand. Whatever your specific objectives may be, we want to help you drive engagement, which is why content matters. Influencer and agency expertise matters. Above all, figuring out how to reach your target audience matters.
In the battle for consumer attention, don't get distracted by trying to use the biggest megaphone. It's far more important to make sure the right people will be listening.
Looking for tips for working with influencers? Keep reading: