What makes a successful business-to-business (B2B) content marketing strategy different from marketing directly to consumers? Unlike B2C content marketing, a B2B strategy supports organizational goals by targeting buyers. Ultimately, it's all about driving leads and sales among busy industry professionals and business owners — which means that it's more important than ever to be targeted, relevant, and engaging.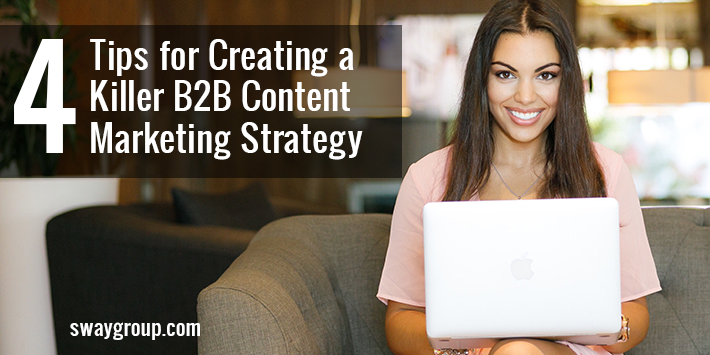 At its core, every content marketing strategy includes the same elements of defining goals and establishing key performance indicators (KPIs). However, a B2B strategy comes with its own unique set of challenges.
B2B content marketers know they're competing in a crowded playing field. In today's attention economy, it can be difficult to cut through the noise in a way that truly resonates. In the end, the success of your B2B content marketing strategy depends on being able to reach the right people with the right message.
For instance, most organizations simply don't have the resources to continually develop fresh, compelling B2B content. From social posts and direct marketing activities, to brochures, trade show collateral, blog posts and more, visual content demands often outweigh company resources.
While traditional creative agencies can be a cost-prohibitive option for this volume of content, a content studio is a less expensive way to secure compelling brand-owned influencer-driven photography, graphics, copy, and/or video assets — without the need to run a full B2B influencer marketing campaign. Our fast-turnaround Social Content Studio supplies B2B clients with audience-centric images and videos that are perfectly curated for today's social platform trends. Based on the details in your buyer personas, we develop content that builds trust with your audience, humanizes your brand, and overcomes ad and algorithm barriers to boost targeted reach and engagement.
At Sway Group, we've seen content marketing trends come and go, but a few best practices for B2B have risen to the top. Read more in my latest Forbes article, Four Best Practices For A Killer B2B Content Marketing Strategy.